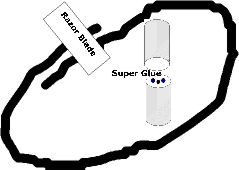 After marking the gasket material lay the ends together and cut the rubber material perfectly straight on both sides with a razor blade. The idea is to get both ends square.
After the material has been cut to size:
Place a small drop of superglue on the surface of one end then place the two ends together and hold in place for a couple minutes.